Shop-bought yoghurts such as Petit Filous and Muller Corners could soon face a major overhaul as part of the government's plan to tackle obesity.
Public Health England, who is in charge of the nation's childhood obesity action plan, proposed that manufacturers should cap the size of single serving yoghurt pots at 125g. 
It also wants to reduce the average amount of sugar in yoghurt from 11.05% to 8.8% by 2020.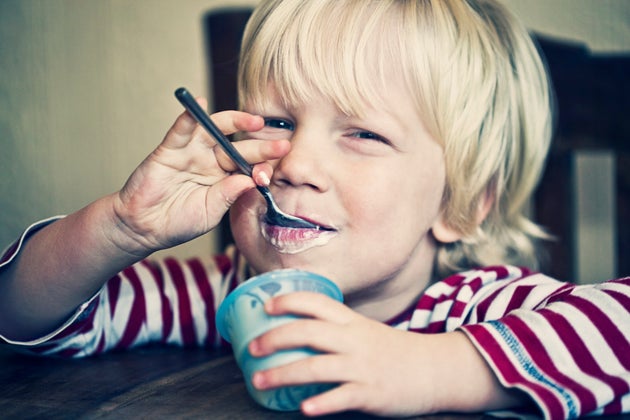 Sally Anscombe via Getty Images
Public Health England representatives met with industry bodies as well as members from Action on Sugar to discuss how to reduce the amount of sugar kids consume. 
Yoghurt is just one of nine categories they are focusing on, alongside breakfast cereals, confectionery, ice cream, morning goods, spreads, biscuits, cakes and puddings.
During each meeting, suggestions are put forward on how to help reduce sugar intake. Discussing yoghurt, PHE policy makers proposed to shrink the size of yoghurt pots so they are are no larger than 125g per serving and reduce the overall sugar content in these products. 
The Daily Mail reported that industry insiders are furious at the "appalling attempt to demonise dairy products", noting that yoghurt contains important nutrients, including calcium, and vitamins.
However a spokesperson for PHE told The Huffington Post UK their plan isn't about "restricting how much yoghurt people eat".
They said they recognise yoghurt is a good source of calcium, but noted that there are a lot of yoghurts that still contain far too much sugar – and this needs to be tackled. 
According to an analysis by The Grocer, some of these sugar-filled yoghurts include:
:: Petits Filous Raspberry and Strawberry Fromage Frais – 11.9% sugar
:: Strawberry and Raspberry Flavour Yogurt Frubes – 13.2% sugar
:: Munch Bunch Fromage Frais with Strawberry Puree and Vanilla Flavour -13.4% sugar
:: Muller Corner Trackstars – 13.8% sugar
:: Oreo Vanilla Yoghurt – 17.2% sugar
:: Nestle Smarties split pot yoghurt – 18.9% sugar
For those who are looking…